Madrid in one day.
We start today with a new section in English in order to introduce Spain to foreign people. Take into account that my English is not the best, so be patient with me.
As a first post in this section, we talk today about what you can see in Madrid in one day. If you are doing a small scale in Madrid and you do not have a lot of time, you are surely thinking about things to do in Madrid in one day.
So, please let me recommend you a route that you could do it in Madrid in one day.
Madrid in one day – route
"Sol"
We start our route by Madrid in one day in "Sol" where you can arrive by different public transports, although I recommend you to use train or metro. Once you arrive here, you can enjoy with its famous statue "Oso y el madroño" .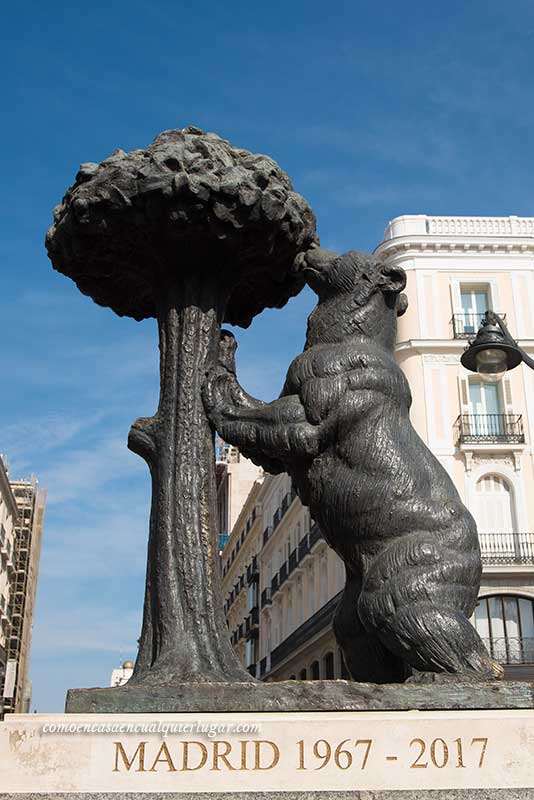 This is a Madrid symbol made by Antonio Navarro in 1967 that you could also see in Madrid's emblem. Bears were very typical in Madrid in the medium age. Regarding strawberry trees, they could be also very typical then, or maybe it was included due to its similar sound with Madrid. Anyway, this is currently a very famous place that I really recommend you in your route by Madrid in one day, However, take into account that it is always crowded.
"Clock of the Puerta del Sol"
Before arriving to the third point to visit in our one-day route for Madrid and in the same area of "The bear and the strawberry tree", you cannot miss the famous clock of the "Puerta del Sol" in the "Casa de Correos" also known as the clock of the "Gobernación"
This is specially important in New Years Eve when all Spanish people are waiting for eating the 12 grapes and give the welcome to the New Year once marking the 12.00 p.m.
There are a lot of anecdotes about this clock. It seems that preliminary there was another old and inaccurate clock located in the church "El Buen Suceso", currently the building where Apple store is.
All Spanish citizens were very angry due to this did not work well and so a new clock was ordered. However, this clock continued being imprecise and not only people but, even, the press made jokes about it.
Finally, after other failed attempts, a new clock was manufactured by José Rodríguez Losada and inaugurated in 1866 with the presence of Queen Elizabeth II.
"Plaza Mayor"
We continue the route by Madrid in one day, visiting the "Plaza Mayor" of Madrid at few meters of "Puerta del Sol".
This is one of the most old square in Madrid with 129mx94 m in a rectangular shape surrounded by a lot of balconies of the residential buildings. This is also the heart of the "Habsburg route" in Madrid called "Madrid de los Austrias" in Spanish.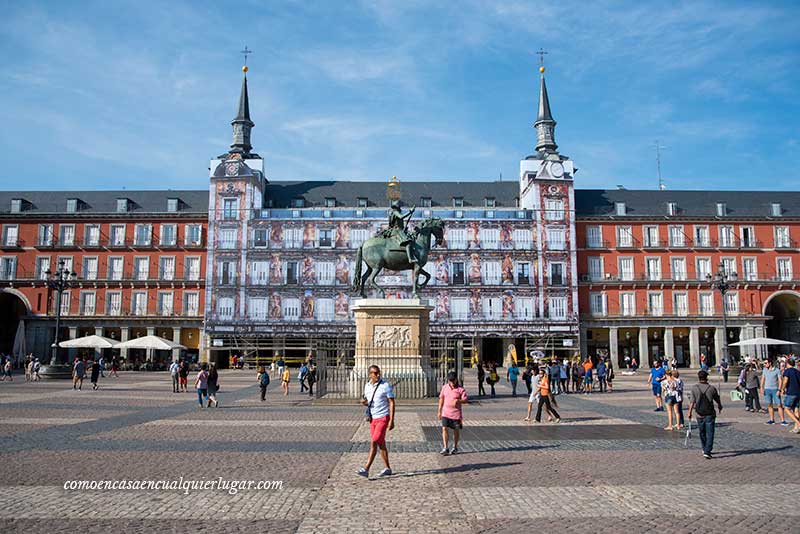 The origin of the square was the old "Plaza del Arrabal" where it was located the most famous market in the s.XV and, currently, where it is celebrated the famous Christmas Market. This was remodeled by Juan de Herrera and Juan Gómez de Mora among other architects.
Although its name has changed a lot during the years (Plaza del Arrabal, Plaza de la Constitución, Plaza de la República, etc), it currently keeps the name of "Plaza Mayor" given at the end of the Spanish civil war.
In this square, I would like to recommend you three different points:
Felipe III statue made by Juan de Bolonia and Pietro Tacca in 1616 that it was previously located in "La Casa de Campo".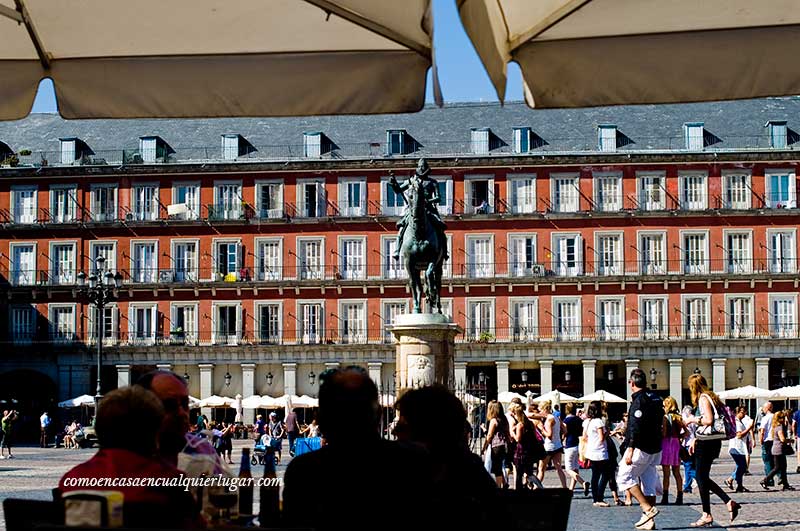 Casa de la Panadería. This was the first building built in the square in 1590 with a facade decorated by Carlos Franco. The tourism office is currently here.
Arco de Cuchilleros, this is the most famous arch of the nine doors that you could find in this square. Its name comes from the street that communicates with it and where most of the cutlers were located in the past.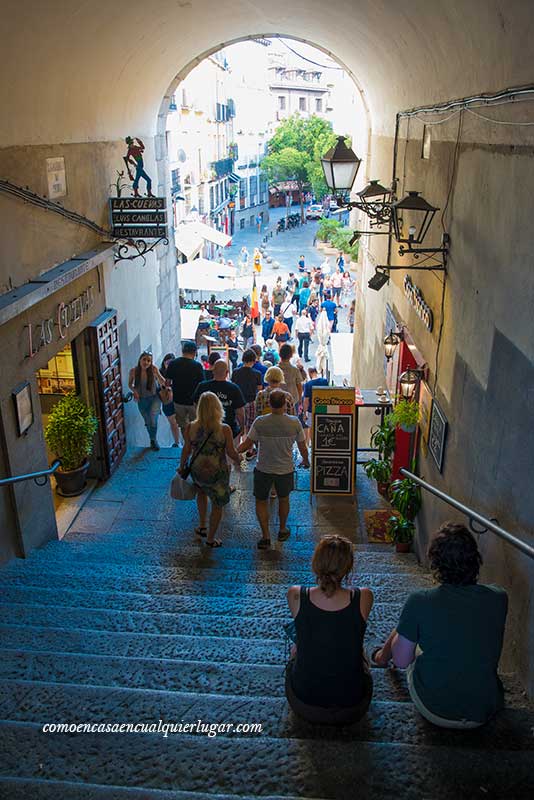 "Mercado de San Miguel"
To continue our route by Madrid in one day, you can go out by the following door to "Arco de Cuchilleros" and straight on until arriving at "Mercado de San Miguel".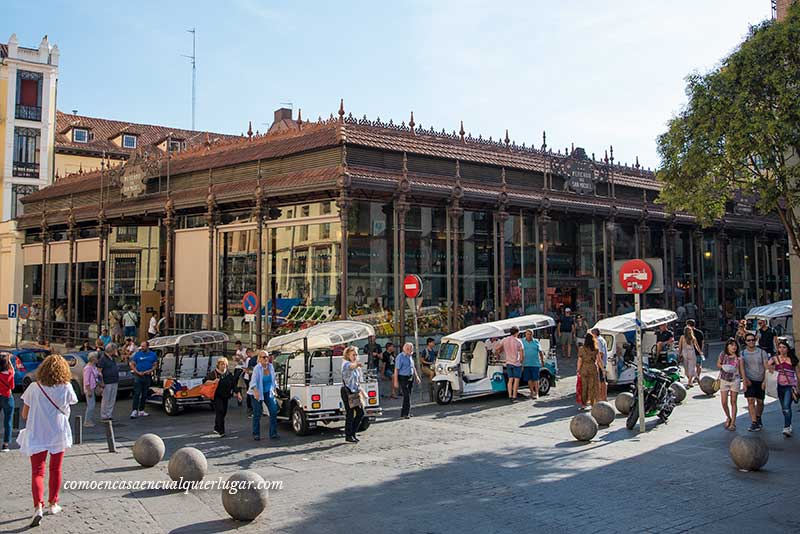 This market was built in 1916 and purchased in 2003 when all of its iron structure was renovated. Currently, this market is one of the main gastronomic markets and it allows you to enjoy with typical Spanish products from Iberian ham and fresh fish to cheeses, wines, etc. So, you could enjoy tasting different Spanish products and tapas.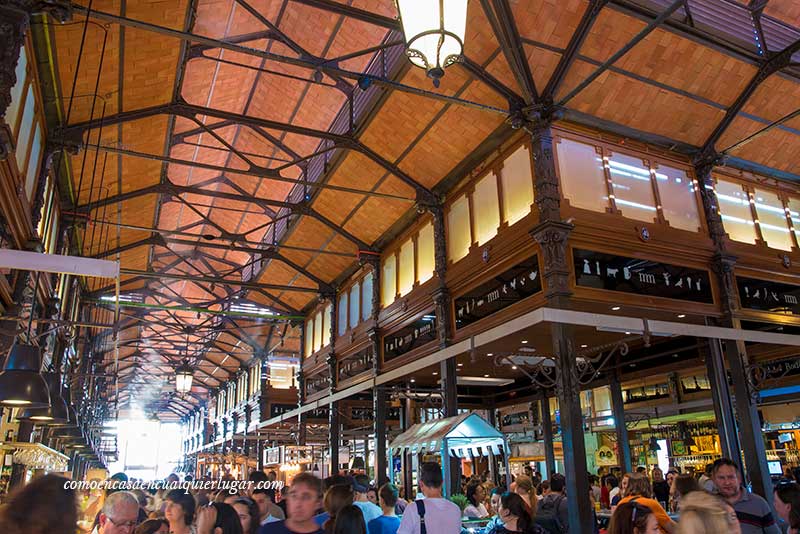 "Plaza de la Villa"
Near to "Mercado de San Miguel" and "Plaza Mayor", in our route by Madrid in one day, we can find this small square called "Plaza de la Villa", previously, Plaza de San Salvador.
It is one of the best preserve historical monuments, that adopted its current name in the 15th century when it also received the title of Noble and Loyal Villa from Madrid by the King Henry IV of Castile.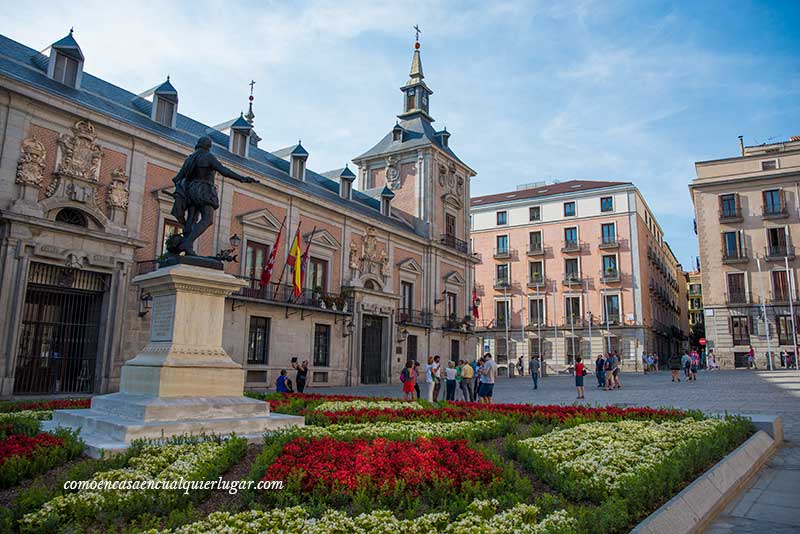 Here, you can also find three buildings with a high historical-artistic value:
"Casa y Torre de los Lujanes" – this was built in the 15th century, being the oldest building in the square. It was built with a Gothic-Mudejar style and it is currently the office of the Academy of Moral and Political  Sciences. It seems that the tower was the "home" of the French monarch François I after his capture in the Battle of Pavia (1525).
"Casa de Cisneros" – this Plateresque palace was built in the16th century.
"Casa de la Villa" – this was built with a Baroque style and it was the Town Hall of Madrid from the middle ages until recent years when it was moved to Plaza de Cibeles. This was started to build by the same architect of Plaza Mayor, Juan Gómez de Mora, in 1644
"Álvaro Bazán Statue – this was built in 1888 in memory of Admiral Don Álvaro Bazán in 1891. This Admiral planned the fleet that attempted to invade England, known as "La Armada Española"
If you are looking for a hotel in the center of Madrid, we recommend the

Hotel Mayorazgo

, a hotel with thematic decoration of Madrid on the Gran Via.
"Catedral de la Almudena"
If you continue walking along the same street, you finally arrive to our sixth stop in our route by Madrid in one day: "Catedral de la Almudena".
This cathedral is one of the most important religious building in Madrid. It was started to build in 1883 by the king Alfonso XII and the architect Francisco de Cubas, although it was not ended until 1993, when it was consecrated by Pope John Paul II .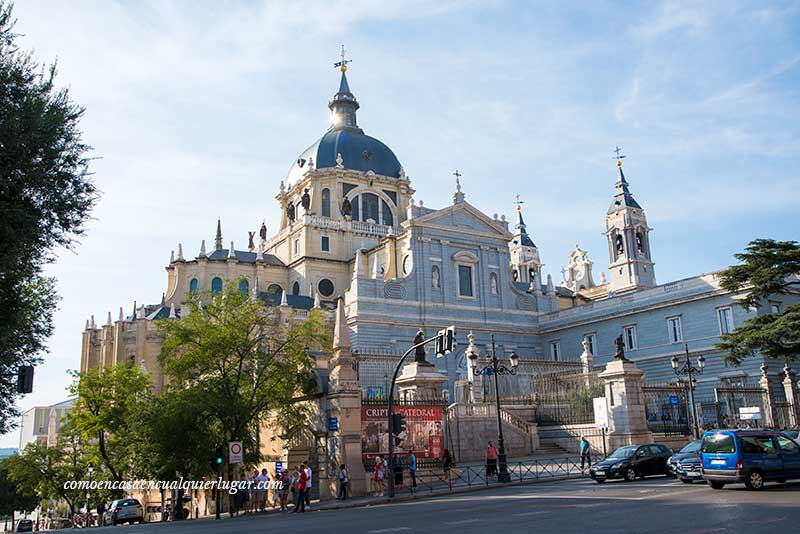 The indoor of Almudena's Cathedral is of Neo-Gothic style and you could find several chapels and statues of contemporary artists. In addition to see the city's patron saint the Virgin "Santa María de la Almudena" and "San Isidro Labrador", you could also visit its museum. The entrance to the cathedral is free but not the entrance to the museum, where you will have to pay 6€.
I will talk about the Cathedral in more detail in a specific post.
 "Palacio Real"
 The Royal Palace is situated adjacent to Almudena's Cathedral, on the south side and very near to the "Plaza de Oriente" and it is a place that you cannot miss in a visit to Madrid in one day.
This was the residence of the kings from Charles III to Alfonso III but not of the current king. However, state ceremonies, banquets, etc are continuos celebrating here. This is a square building with different galleries and courtyard. On the "Plaza de Armas", located on the south side, is the principal entrance to the palace.
This counts with 3418 rooms and 135.000 m2 (the double of the Buckingham Palace), so you could need around 3-4 hours to visit it.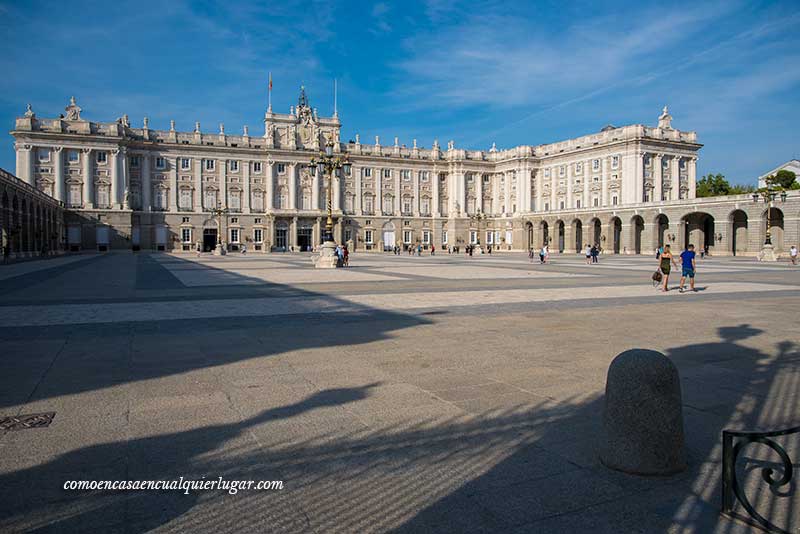 The entrance cost is 10 €,although you could enter free from 16.00 to 18.00 from Monday to Thursday (October to March) or 18.00 to 20.00 (April to September).
Moreover, you could also enjoy with the changing the guard held on Wednesday and Saturdays and the magnificent Solemn changing the guard the first Wednesday of each month.
 "Jardínes de Sabatini"
 If you are tired after our seventh stop of our tour of Madrid in one day, you can relax in the "Jardínes de Sabatini". This neoclassic style gardens was built during the second Republic in the former stables of the Palace and it is located in front of the north facade.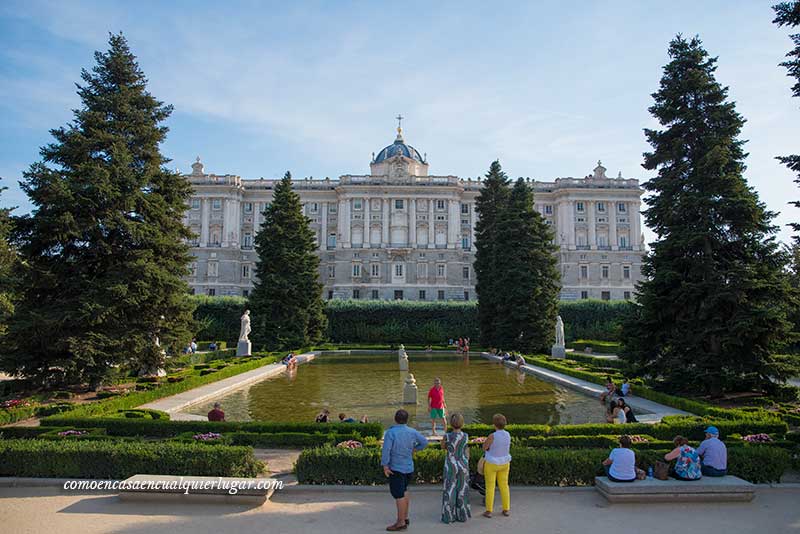 You not only enjoy with its geometrical design or fountains, but also with the different sculptures of the Spanish kings that were originally planned to decorate the Palace.
"Templo de Devod"
If you continue walking by Bailén Street and Ferraz, you will arrive to "Templo de Devod" located in the "Parque del cuartel de la montaña or West park". This is our last stop in our places to visit in Madrid in one day. During this tour, you could see the "Monument to the Heroes of the Second of May or Obelisk".
The Devod's temple was donated to Spain to avoid it from being flooding after the construction of the Aswan dam. It is an authentic Egyptian temple built in the 2nd century B.C at the village of Devod, rebuilt in Madrid after being donated. The visit to the indoors is currently closed.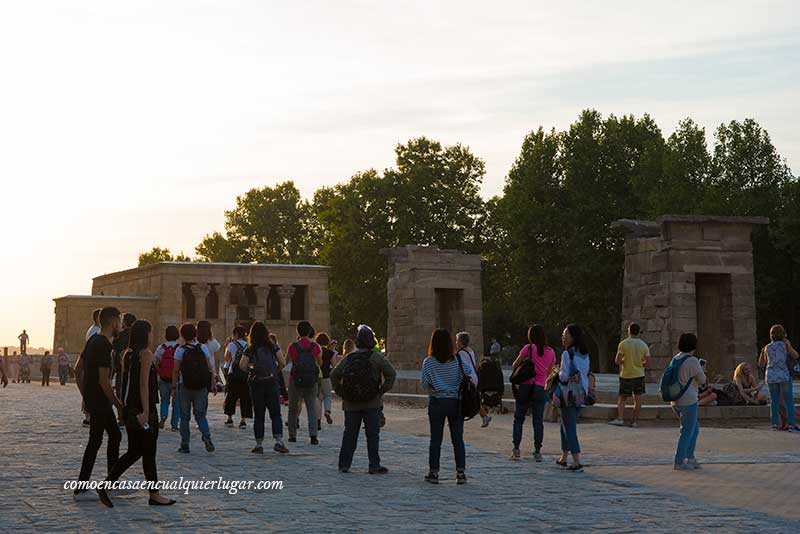 However, I recommend you to visit it during the evening as you can enjoy with one of the most beautiful sunsets in this place.
Return to the first stop
To return to "Puerta del Sol", you can go all straight on by the "Gran Vía" street. Here, there are the most important musicals centers and, moreover, you can take advantage to go shopping in the different shops that you could find.
Places to eat "tapas" during our route by Madrid in one day
Obviously, we cannot forget to talk about the main places in where you could "tapear"/eat "tapas" in our tour in Madrid in one day. Thus, you can eat something in "Casa Labra", opened in 1860 in Tetuán Street very near to Puerta del Sol. Here, it is remarkable the cod and its famous croquettes.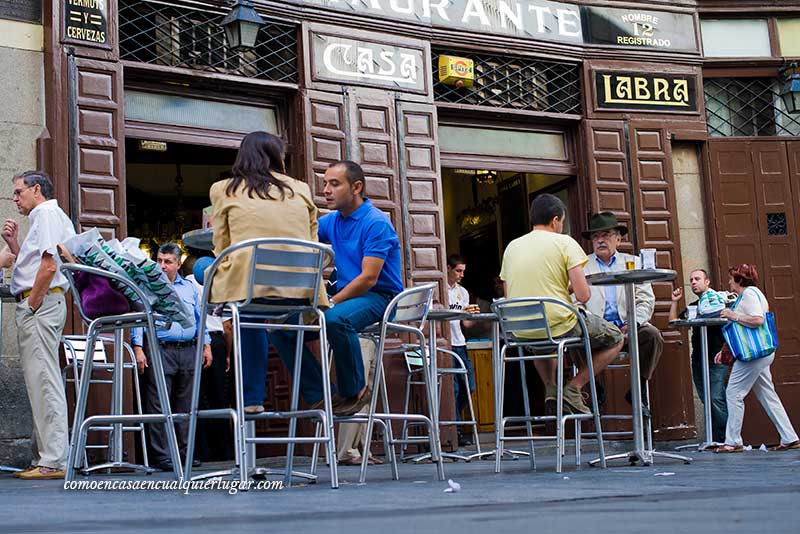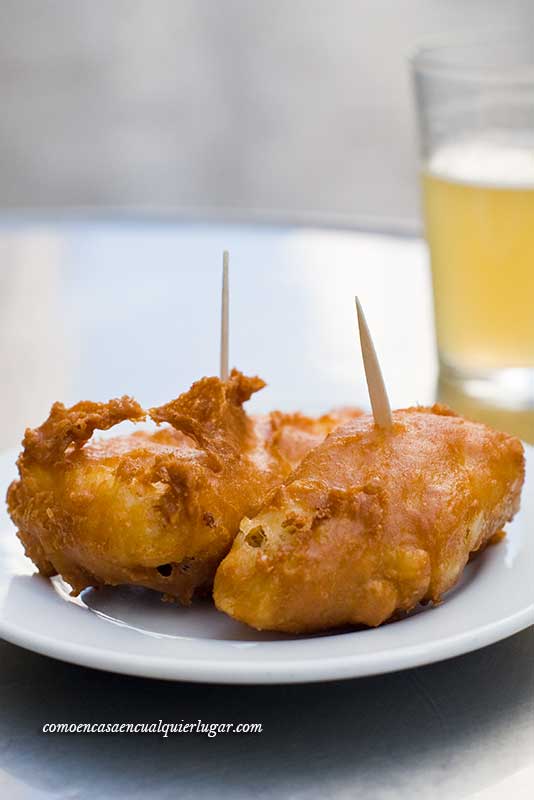 If you prefer something sweet, maybe you prefer the "Chocolatería San Ginés" where you can enjoy eating the famous chocolate with "churros". This building was originally open as a guesthouse in 1890, being a shop to make churros as the traditional technique. Moreover, it appears in severals Benito Pérez Galdós' novels and it is a tourism historical centre. Currently, there are also a "Chocolatería San Ginés" in Tokyo, Shanghai and Colombia.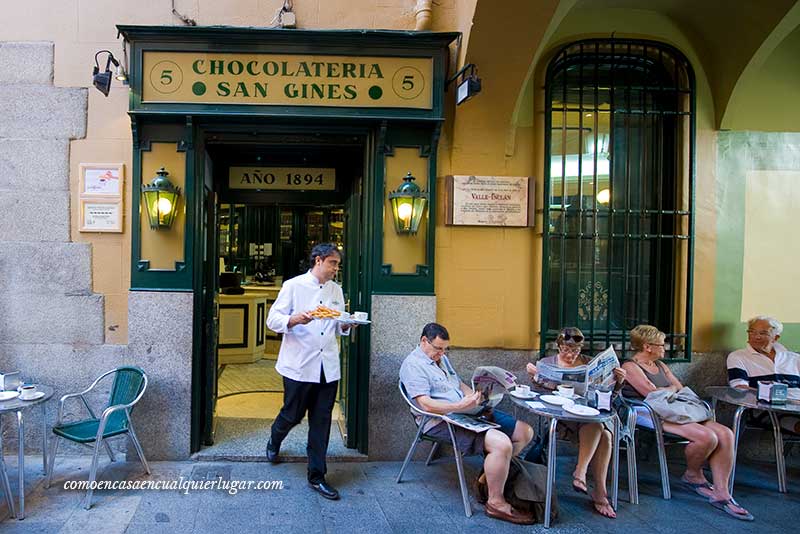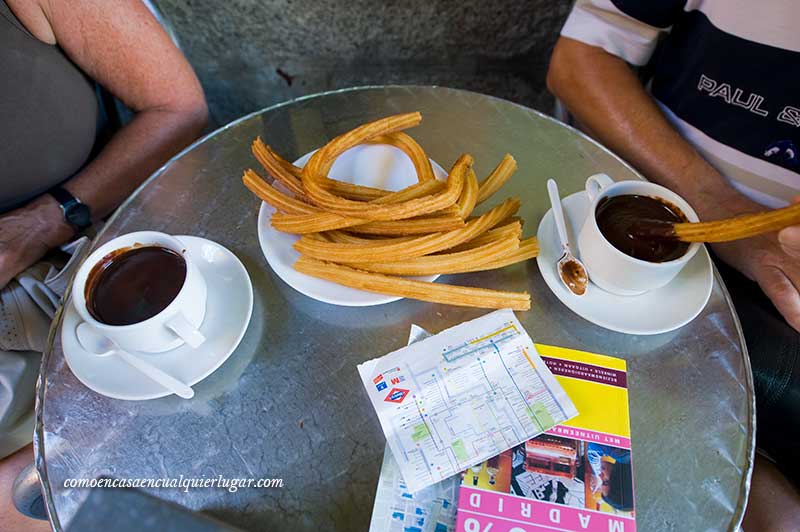 In "Plaza Mayor", you could taste the famous squid baguette or "bocadillo de calamares" in Spanish. You could find a lot places to eat it, but I recommend you a very small pub located in one of the doors of "Plaza Mayor".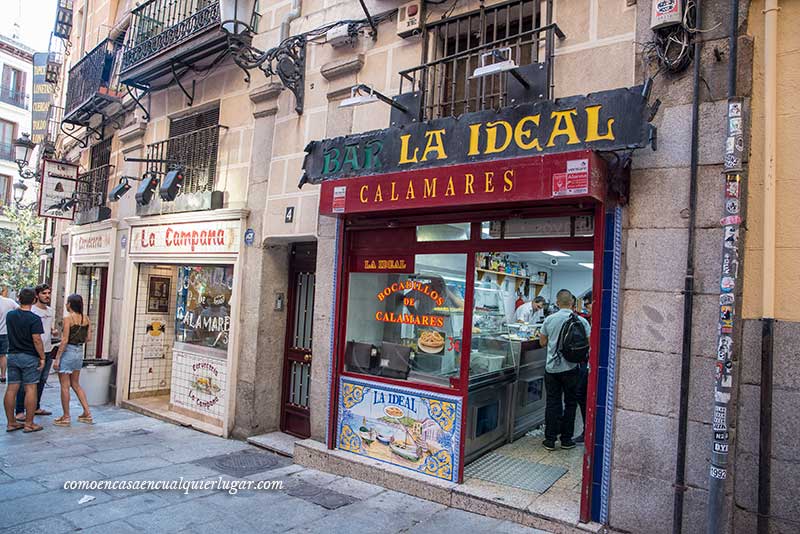 If these are not enough, you could eat all the main Spanish tapas in "el mercado de San Miguel". As I mention before, this is a gastronomical market in where you could enjoy with gourmet tapas offered by over 30 shops that you can find here. Olives, fish, hams, cheese or chocolates with different kind of wines or beers, between others, are some of the tapas that you could taste here.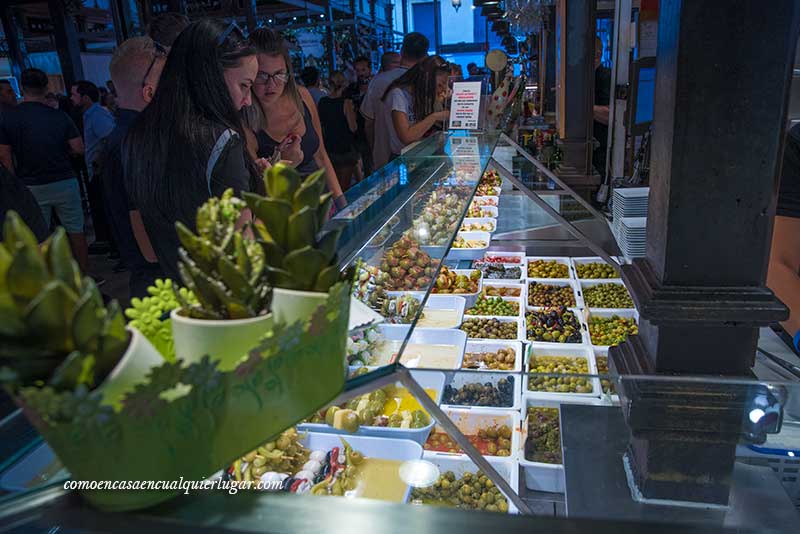 Alternatively, if you prefer to finish our route by Madrid in one day taking a beer in a typical Spanish pub, I recommend you to read my following post " cervezas en Madrid ". Don't miss the Lazaro Galdiano museum .
Location on google maps Madrid